Social media's best bits: Puppy push-ups and makeshift courts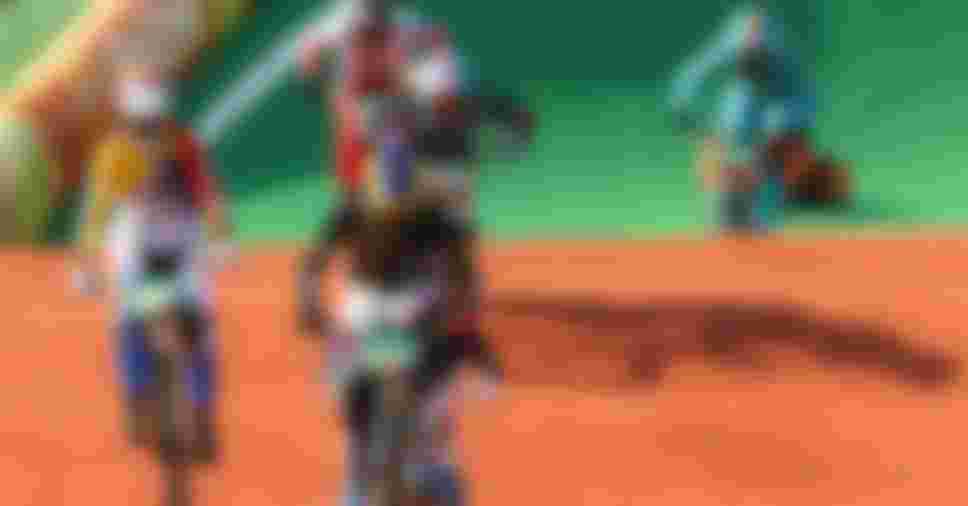 Every week, Tokyo 2020 will bring you the best sport posts from the social media world. This week, take a look at how athletes are keeping fit and returning to training.
Back on track 🏃‍♂️
Republic of South Africa's Henri Schoeman celebrated Olympic Day (23 June) in great style by heading back to his triathlon training and the result saw him shave 8.07 seconds off his personal best time.
Always ready
Two-time Olympic champion Mariana Pajon is motivated more than ever. The athlete, who has been training from home alongside husband and BMX racer Vincent Pelluard, writes that she is ready to go whenever the green light is given.
Work in progress 🧗‍♀️
Top sport climber Ola Rudzinska showed she's still got the moves as she manoeuvres her way up this wall in this indoor climbing facility in Poland.
Puppy power 🐕
Ahead of Olympic Day, many Australian athletes pledged to reach a goal they had set, but boxer Caitlin Parker's achievement with Lennox was one of the cutest.
Back to training 🏓
After nearly two and a half months, Japan's table tennis national team restarted their training at the National Training Centre in Tokyo this week. World no.2 ITO Mima and Rio 2016 men's team medallist NIWA Koki are among those who could finally play with their teammates again.
More time to practice 🤸‍♂️
Olympic hopeful and gymnast MINAMI Kazuki was happy that he could return to training at the gym.
"It's good that I could come back to the gym, because it's easy to train here. With the postponement of Tokyo 2020, I get more time to practice," he said.
Bringing the court home 🏐
When you can't go to the court, there's only one way to train. Brazilian sitting volleyball player Luiza Guisso Fiorese has missed training on a court so she opened a training centre in her garage.
"I managed to make a normal-sized 'net' in addition to one that simulated the height of the block. We also made a protective screen for the bouncing ball. That way I was able to go back to training serve and attack training improved 90 per cent," she wrote.
Michael Johnson 200m record
Retired American sprinter Michael Johnson who won four Olympic medals during his career couldn't help but chime in about Olympic Day, as it fell on the same week as his 200m world record.
The great outdoors
Palak Kohli - the youngest member of India's para badminton team - has managed to continue her training during the lockdown. The teenager, who is also the youngest athlete to qualify for the Paralympics, has created a making a makeshift court near her rented flat in the outskirts of Lucknow and trains two shifts a day.
Want to be a Paralympian? 🚴
Following the retirement of cyclist Sophie Thornhill, British Cycling has announced its search for a new British tandem 'stoker' - the vision impaired cyclist to ride at the back of tandem pilot Helen Scott.
"We are looking for a blind or visually impaired female who has the drive and passion to succeed. Cycling experience is not necessarily required, but you do need to hold a British passport and be at least 18 years old by 31st December 2021," said Head of GB Para cycling programme, Jon Pett.
Details can be found below.
Check out The Lowdown for more of the best posts from the past week: