Rosie MacLennan: Beyond her wildest dreams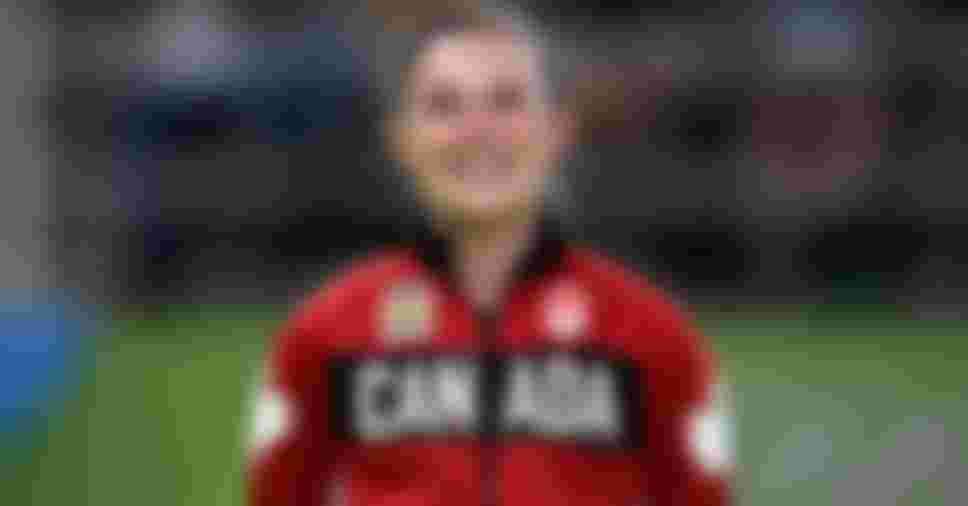 The two-time Olympic trampoline champion may be on course for a historic three-peat at Tokyo 2020. But the joy of competing is what continues to drive one of Canada's most successful athletes. 
Rosie MacLennan is a legend of trampoline gymnastics. Her rise to the top of the sport began in earnest when as a 20-year-old she finished seventh at Beijing 2008. But it wasn't until London 2012 that her legend began to truly blossom when a winning performance made her Canada's only gold medallist of the Games. Fast-forward four years to Rio 2016 and MacLennan was once again standing on the top spot of the podium to record back-to-back gold medal wins.
However, it wasn't all plain-sailing for the Canadian gymnast, who has battled through career-threatening injuries but never lost her love for the sport.
Formulating a dream
Trampoline gymnastics is the youngest of the three Olympic gymnastics disciplines, having made its debut on the programme at Sydney 2000. Back then, Canada's Rosie MacLennan was only 12-years-old, but she still has vivid and personal memories of the competition.
Her mentor growing up – and to an extent even today – was Karen Cockburn, a trailblazer in Canadian trampoline who went on to win a bronze medal in Sydney and silver at both Athens 2004 and Beijing 2008. Both MacLennan and Cockburn were members of the Toronto-based Skyriders Trampoline Team, and watching someone she looked up to so much competing at the Olympics lit a fire under MacLennan.
It gave her the determination – and know-how – necessary to follow her dreams.
"I actually watched Karen Cockburn and Mathieu Turgeon earn their spots to the Sydney Olympics and they obviously trained at my gym as we both trained at Skyriders," MacLennan told Tokyo 2020. "And then over the next year, I got to watch them train and prepare and their determination and focus and resilience and just all of that in the lead-up.
"And then I watched them ultimately not only compete, but both earn Olympic medals. And when they came home, I got to see the Olympic medals and hear about their experience. So I think that whole process really helped to show me that it was possible, like these were real people that I knew and I could talk to. But they also gave me a very realistic view of what it actually takes to get there."
Stepping into the limelight
Eight years later in Beijing, it was MacLennan's turn to take her place on the Olympic stage.
"I just remember walking towards the opening ceremony stadium and I just looked at Jason [Burnett, Canadian trampoline gymnast] like 'holy crap, we're here!'" It's something you dream of and work towards for so long and then all of a sudden when it's there, it's such an incredible feeling."
Her first taste of Olympic action saw her come home in a commendable seventh place. But for MacLennan, who had seen both Cockburn and Burnett bring home medals for Canada, just finishing in the top 10 wasn't enough.
"Both Karen and Jason won medals in Beijing so I was the only trampolinist from Canada to come home without one. So I just felt left out!" she recalled, laughing. "But I think it was more just being really motivated and inspired by the entire experience and really motivated to push myself harder."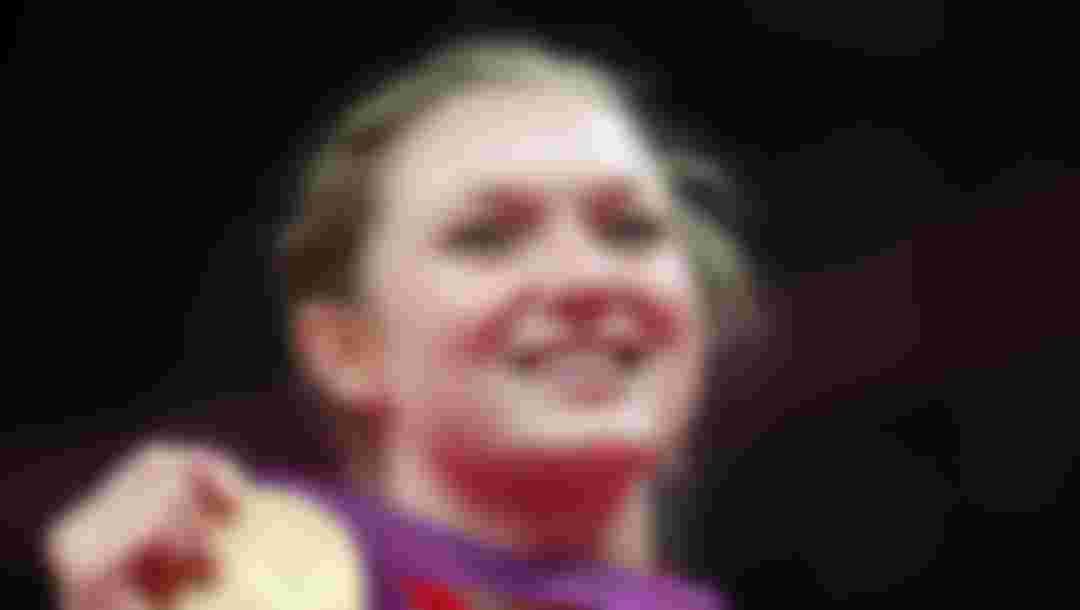 Going for gold
MacLennan's next opportunity to medal was at London 2012. And she would grab the opportunity with both hands.
"My first routine wasn't particularly strong. So I was nervous. And I think between the two first routines, I actually looked up into the crowd and saw my family and I think that really just grounded me. I just smiled at them, they smiled back and I knew that they would be there to support me no matter what."
As she looked over at her loved ones, MacLennan reconnected with the joy of just being on the trampoline, of flying through the air and feeling the freedom of having nothing to lose.
But everything to gain.
"That helped going out into my second routine. It was stronger and put me in fourth. And even though we all start from scratch or start fresh in the final round, the mentality of being fourth was also really powerful because it gave me the sense I really had nothing to lose. I may as well just go out there and give everything that I have."
"And so I think that also kind of freed me in some way in the final round. I was having fun. I felt grounded. I felt like I didn't have anything to lose."
MacLennan went on to win gold, in a moment she describes as "bittersweet" due to the fact that her mentor Cockburn finished one spot off the podium.
The torch had passed. And now, the legend was in full flow.
We didn't want to go into the next four years as defending champion because then you have something to lose.
MacLennan's triumph in London was impressive, not only because it was Canada's first-ever trampoline gymnastics gold but also because it was the only gold medal the country won at the Games.
In many ways, she wasn't ready for the level of attention she received upon returning home.
"There was a lot of attention that I wasn't prepared for," she said. "So it was a bit of a whirlwind. But I was really lucky to have my family supporting me and my friends supporting me and just making me stay focused and grounded through all of that."
But as time passed by, she re-focused her efforts on a new goal: the Olympic Games Rio 2016.
If the MacLennan who travelled to London was an underdog, her next Olympic experience would be that of a champion – with all the added pressure that goes with it.
But MacLennan made a conscious decision not to think of herself as the titleholder. Instead, she concentrated on enjoying her third Olympic experience in the same way she had done in London.
"We didn't want to go into the next four years as defending champion because then you have something to lose."
"I just try and go in with as much preparation as I can, ensuring that I can be in that moment. Obviously, I hope that that will stack up against the other competitors but I really try and focus on my own process, my own growth, my own journey, my own routines."
The decision was perhaps more prudent than it first seemed. As the road to Rio would not be an easy one – in any sense of the word.
Two-time Olymic trampoline champion Rosie Mac Lennan knows how to deal with setbacks. The Canadian shares her tool kit with us. "What trampoline has taught me is the value of struggle and the value of failure, and the opportunities that creates to learn and to grow and to get stronger."
Losing spatial awareness when one foot out of place can spell disaster
It's difficult to think of an injury that could have more precise consequences than the one MacLennan suffered in 2015.
Having previously suffered a concussion, the Toronto-based athlete suffered a second concussion that left her without spatial awareness. And perhaps the kicker – for someone who spends much of her life in the air – every time she jumped she felt dizzy.
For a period it seemed her participation at the Rio 2016 Olympic Games was in jeopardy.
"I couldn't jump for the better part of four or five months," she recalled, looking back to the time following her second injury. "Right leading into the Olympic qualification for Rio I had issues with headaches and pressure and I was having a lot of trouble sleeping.
"I was experiencing anxiety and depression and just very emotionally challenged, with the head injury but also with the circumstances, feeling like my dreams are slipping away and not knowing when I would be able to get that jump again."
But little by little, MacLennan's condition improved, until her Rio dream once again became a reality.
As she stepped out into the opening ceremony as Canada's flagbearer – a moment she calls the "greatest honour of my life" – MacLennan was once again ready to compete on the greatest sporting stage on earth.
And nothing would stand in her way.
After finishing her final routine, MacLennan looked across at her coach. The smile on his face said it all. The Canadian athlete had written her name in the history books as the first back-to-back Olympic trampoline gold medallist and the first-ever Canadian to win two gold medals in an individual event.
Injury setbacks and returning to the podium
One wrong step can spell disaster in the world of trampoline gymnastics. And it doesn't even need to be the last step you have taken.
MacLennan knew she was on the wrong trajectory that fateful day in 2019 when she broke her ankle. But she carried on anyway, hoping to rectify the "bad bounce" she had chosen to move forward with before hitting the side frame of the trampoline with both her feet.
She also knew that there was something in her own training that had led to that moment.
"I identified the reason that I fell, it was because I kind of slipped out of my mental performance practices or mental training practices. I hadn't prioritised it," she explained.
But in identifying the issues, MacLennan was also able to bounce back.
"In terms of mental challenge that was tough. But it was probably also one of the most valuable experiences I had."
"I think it put me in a different mindset and gave me more confidence and courage and motivation when I got back home to really just push for the World Championships."
Astonishingly, MacLennan returned that same year to win a bronze medal in the 2019 Trampoline Gymnastics World Championships. The competition, which was held in Japan, also gave her a taste of what was to come at Tokyo 2020, with the Olympic Games just around the corner.
Still Tokyo dreaming
In early 2020, with the spread of the COVID-19 pandemic, the Olympic Games Tokyo 2020 were postponed until 2021.
For MacLennan – who had an unprecedented opportunity to complete a famous Olympic three-peat (back-to-back-to-back gold medals) – her Olympic dreams would need to be put on hold.
Now the Olympics are less than six months away, Canada's star athlete can allow herself to dream again. But for someone who is on the verge of such a historic feat, MacLennan isn't one to obsess over her third Olympic crown.
"I've had the opportunity, experience of winning two Olympic Games, and that's beyond my wildest dreams as a kid and beyond what I ever thought I would be able to achieve," she explained.
But, as a serial winner and arguably the sport's brightest star, that does not mean that she will be any less competitive when the Tokyo 2020 Olympic Games trampoline gymnastics competition begins on 30 July, 2021.
And when the action starts during Tokyo's summer months, MacLennan believes the Games will be a symbol of unity after the devastation the world has suffered over the past year.
"I do think there is a lot of value and importance to the Olympic Games, in the symbolic power of them," she said. "I think, given what the world's experienced in the last year, they can be an important symbol of the world coming together.
"There's going to be no shortage of challenges over the next six months but I do hope that they can be a symbol of the world being able to overcome the virus and come together and unite and do something positive."