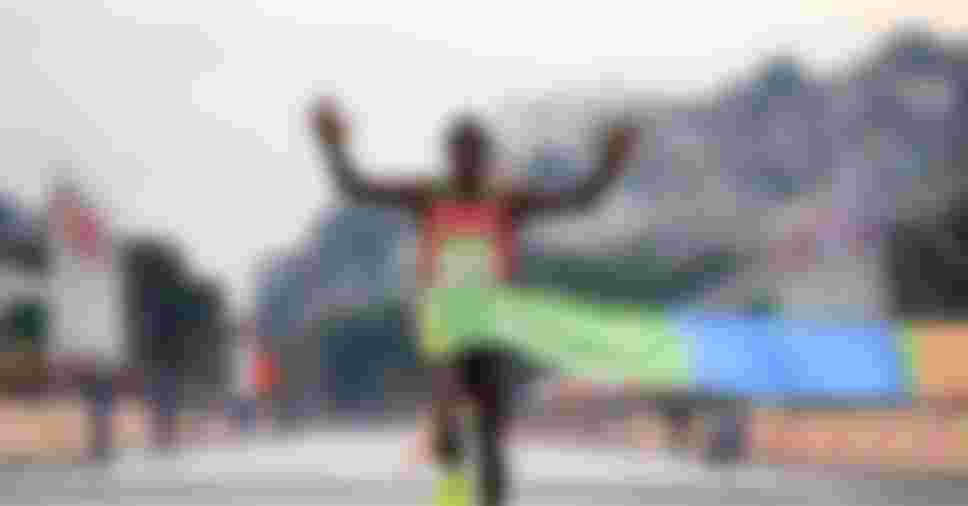 Athletics is the largest single sport at the Games, with the programme divided into track, field and road events. The concept of running faster than your rivals is simple but every aspect of an athlete's performance must be perfect to win gold.
Overview
The Olympic marathon and race walking events are held on public roads, with spectators lining the route to cheer the athletes.
Legend has it that the marathon can be traced back to a young soldier in the fifth century BC, who ran from the battlefield of Marathon to Athens to announce that the Persian army had been defeated, exclaiming "we have won" before collapsing and dying. The event takes its name from the battlefield. It has been part of every Games since Athens 1896, with the women's marathon added at Los Angeles 1984, and is one of the most iconic Olympic events.
The marathon event in the earliest modern Olympic Games was about 40km (25 miles) in length, roughly the distance from Marathon to Athens. The standard distance (42.195km/26 miles 385 yards) was set by the IAAF in 1921, directly from the length of the race at London 1908.
Race walking is distinguished from running races in that one foot must always be in contact with the ground. In addition, the knee cannot be bent from the time the front foot comes into contact with the ground until the vertical upright position. Race walking was held as a track event on a 3,500m course at the London 1908 Games, and has been held on roads since Los Angeles 1932.
As well as coping with the distance, athletes in the marathon and race walking events must also deal with the road surface, the gradient, water stations and the weather, among other factors. Competitors and their coaches must ascertain which variables will determine victory and develop a strategy accordingly.
Psychology also plays a part as athletes try to unsettle their fellow competitors. They might seek to 'slipstream' others in a headwind, speed up on a gruelling uphill section or hide their expression behind sunglasses. In addition, some athletes may work together against a rival. Such tactics are entirely legitimate and add to the attraction for spectators.
Event Programme
20km Race Walk (Men/Women)
Marathon (Men/Women)
50km Race Walk (Men)
Map of the marathon events
Map of the race walk events
Essence of the sport
Setting the pace
The men's marathon has a long history but only two athletes have won back-to-back marathons at the Games: Ethiopia's Abebe Bikila, who took gold at Rome 1960 and Tokyo 1964, and Waldemar Cierpinski (East Germany), who finished first at Montreal 1976 and Moscow 1980. No woman has yet won back-to-back marathon gold medals.
Recent winning men's times have been just below 2 hours 10 minutes, several minutes slower than the world record. Most records are set on level courses in optimum conditions with the benefit of pacemakers, rather than in the height of summer without the aid of pacing. All Olympic Marathons since Athens 2004 have been held in August, and Tokyo 2020 will be no exception. Experience of running in heat is one factor in the recent dominance of African athletes from countries like Kenya and Ethiopia.
Staying hydrated is essential and athletes must take advantage of the water stations provided. However, they can be fraught with difficulties. Japan's Hiromi Taniguchi was considered a potential winner of the men's marathon at the Barcelona 1992 Games, but another runner stepped on the heel of his shoe at a water station and caused him to fall. He went on to finish eighth having lost a significant amount of time due to his unfortunate accident.
Outlook for the Tokyo 2020 Games
Walk, don't run
Race walking judges watch carefully to ensure that both of an athlete's feet do not leave the ground at the same time. They issue red cards in the event of clear violations. If an athlete receives red cards from three or more judges, he or she is disqualified. In this way, race walking is a competition not only against other athletes and the conditions, but against demanding rules.
The Olympic race walking events are 20km and 50km for men, and 20km for women. Even though athletes must walk, their speed is remarkable: an elite race walker covering the 50km distance in around 3 hours 35 minutes would have walked at an equivalent pace to a three-hour marathon.
European countries have traditionally dominated race walking. However, Asian athletes have come to the fore at recent Games. China won gold and bronze medals in the men's 20km event at London 2012, as well as gold and silver medals at Rio 2016, where Japanese race walker Hirooki Arai took bronze in the men's 50km. China also won gold and bronze medals at Rio 2016 in the women's 20km event.
Trivia
Every 500m.
In race walking, there is a water station every lap. Athletes in road events are allowed to consume their own special drinks at water stations.