Nikola Karabatic's new role for France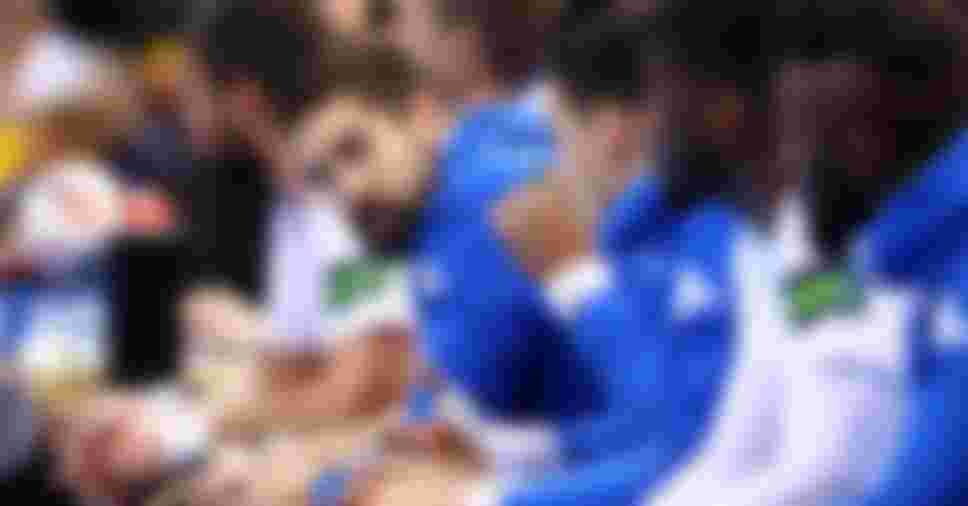 Since he joined the French team in 2002, Nikola Karabatic has won everything. But at the age of 36, one of the greatest players of all time now has a role that goes far beyond the court. He tells Tokyo 2020 about the new Karabatic who is bidding to qualify for the Olympics next year
Nikola Karabatic has been playing for the French national team for almost 18 years - a journey that began at the age of 18, one year after Claude Onesta was appointed as coach.
Back then, France hadn't tasted Olympic glory, but they now have two Olympic titles to their name, clinched in 2008 and 2012.
Their first gold medal in Beijing coincided with the rise of one of the most talented teams in international handball history. They became known as les Experts (the Experts).
Following hot on the heels of the endearingly-nicknamed les Bronzés (the Tanned Guys), les Barjots (the Crazy Guys) and les Costauds (the Tough Guys), the Experts had, within a decade, added to their Olympic haul with four World Championships (2009, 2011, 2015, 2017) and two European titles (2010, 2014).
Karabatic was the heart of this seemingly invincible team.
But today, the French national team is going through a transformation process. Onesta left the team in 2016 at the end of an incredible decade and leading figures including Thierry Omeyer and Daniel Narcisse have since retired from international duty.
But Karabatic is still there.
As decisive as before on the court, but omnipresent off of it as well.
You don't become a double Olympic gold medallist and four-time world champion without evolving. And that's exactly what three-time world player of the year Nikola Karabatic has done throughout his playing career. The Frenchman has seen his roles and responsibilities within the national team change from young star to a leading player helping the squad rebuild. Now, he's enjoying taking things one season at a time, and explains why he doesn't think he's quite done winning titles for club and country.
The significance of the blue jersey
In an exclusive interview with Tokyo 2020, the three-time Player of the Year looked back on the evolution of his role, which quickly became central to the success of the team.
"I was first selected when I was 18. I was among the youngest ever to be selected," he said. "My role quickly evolved. I took on a lot of responsibilities at a very young age and I quickly became one of the leaders."
The Paris Saint-Germain star then became an inspiration for a younger generation of players, who were entering a team full of champions.
"My role also evolved off the court with the integration of younger players. I made sure they could be integrated into the game tactically, and I reassured them because joining a team that had won so many titles is not easy."
However, his role goes far beyond pure tactics now.
Karabatic makes sure French rookies understand the inherent responsibilities of wearing the Tricolour jersey.
With the last European Championship, we needed to redeem ourselves.

There is a lot of expectation around us.
"I'm confident"
France are currently going through one of the toughest periods in their history.
During the 2020 European Championships in January, they failed to make it out of the preliminary round for the first time since 1998.
Didier Dinart, a member of France's back-to-back Olympic gold medal team, had succeeded Onesta as coach but was replaced by assistant coach Guillaume Gille following the result.
Returning to the top of the world again is now a real challenge, but Karabatic remains confident.
"After the last Euros, we needed to redeem ourselves and there is a lot of expectation around us," Karabatic said.
"Players have a lot of pressure but I'm confident because there is strong potential, many qualities and talent in almost every position. But we may need a big result to kick start this generation, since a lot of players have never won a title with the national team."
Even though results over the past three years have not been as good, the "newcomers" already have the ability to strike fear into the best defences in the world.
Their crop includes Ludovic Fabregas (24, FC Barcelona), Melvyn Richardson, (23, Montpellier), Dika Mem, (22, FC Barcelona) and Nedim Remili (24, Paris Saint-Germain).
Olympic qualifier, another challenge
Elimination from the European Championship cost France automatic qualification for the Olympic Games Tokyo 2020. Les Bleus will have to compete in tricky qualifiers next year, where just one mistake could end their Olympic dream.
France will face Croatia - an old rival, who they beat in the final of both the 2009 World Championship and 2010 European Championships - as well as Portugal and Tunisia.
Only the best two teams will qualify.
Although the tournament will be played in France, Karabatic believes these teams will be difficult to play against.
"It's going to be tough. Croatia are the reigning European runners up, Portugal took us out of the last Euro and Tunisia are one of the best African nations with top players who play in the French league.
"We have the advantage of playing in France but it means nothing.
"It's not going to be easy. We cannot afford to play at 80 per cent, we'll have to be on top of our game."
The centre back has already experienced an Olympic qualifier.
In 2008, France won their qualifier (against Spain, Norway and Tunisia) before flying to Beijing to win their first Olympic gold medal.
Karabatic is wary of the daunting challenge they now face.
"This is very special as it's usually in the middle of the club season. We don't have much time to prepare and we play three games in three days. It's so short that a small injury can ruin your tournament."
"[There are] many things to handle and a lot of pressure: you won't go to the Games if you miss a match. Details can be key. We can't afford to make any errors. It's tricky."
Titles, I already have.

I want to help my teammates to win these.
Propelling the new generation forward
At the age of 36, Karabatic wants to lead this new generation to Tokyo 2020 and hopefully go beyond the silver medal they won at Rio 2016.
"First, we need to qualify. Then if we do so, anything can happen," he said.
If France do secure a ticket to Tokyo, Karabatic is aware it could be his last Olympic Games. He knows that Paris 2024 may be tough to reach, but concedes that he's not ruling out the possibility of taking part.
"I'm trying to slow down time!" he laughed.
"We don't view ourselves far in the future at my age. I'm thinking one season at a time."
"I'll check my physical abilities to see if I'm still fit enough to compete well in every competition, either with PSG or with the national team.
"For now, I feel I'm at 100 per cent and I can help my teammates, but I'm not looking further than Tokyo."
Karabatic wants to enjoy being in the moment and wants to share his experience, personality and skills with the new generation.
"I'm closer to the end of my career than to the beginning. It's a fact. Titles, I already have but I want to help my teammates to win those as well and maybe feel the challenge of a last big title."
"I'm trying to enjoy as much as I can without thinking about the title itself. Just enjoying the path."