International Olympic Committee and International Paralympic Committee hold joint project review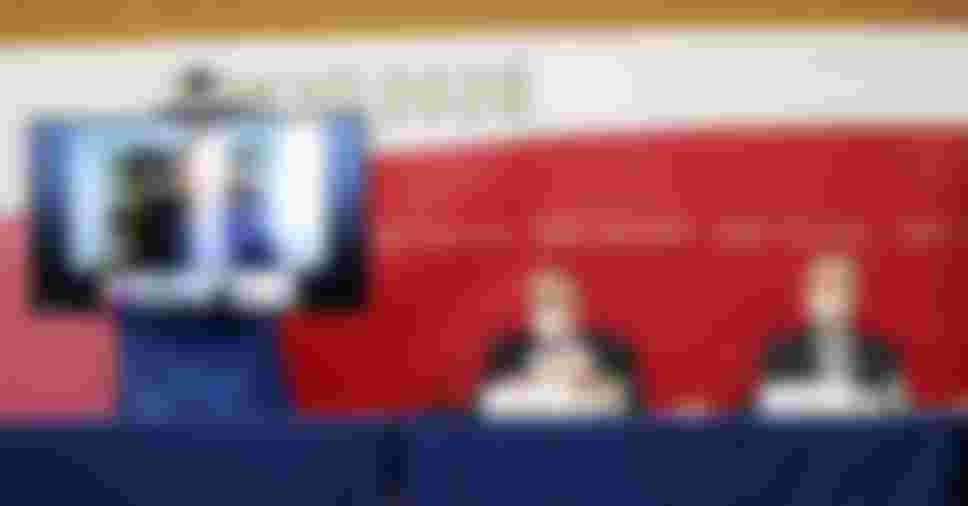 A joint project review with the International Olympic Committee (IOC) and the International Paralympic Committee (IPC) was held over three days by the Tokyo Organising Committee of the Olympic and Paralympic Games (Tokyo 2020 Organising Committee) from 16-18 November.
The IOC and IPC normally conduct individual project reviews with the Tokyo 2020 Organising Committee to provide updates on Games preparations. However, in this instance a joint review that focused on COVID-19 countermeasures was held with all three parties as well as participants from the Government of Japan and the Tokyo Metropolitan Government.
Assess the considerations needed for Games preparations and operations during the coronavirus pandemic
This project review assessed issues that need to be considered for Games preparations and operations during the coronavirus pandemic, and affirmed that all five parties would continue working closely together in order to hold a successful Tokyo 2020 Games in 2021.
Main points of discussion from the IOC and IPC joint project review
Immigration control for Games participants (excluding athletes and spectators)
If it is not possible to enforce a 14-day isolation period and avoid use of public transportation, then what additional quarantine measures (screening tests, codes of conduct, limited business destinations) should be enforced that guarantees the same level of safety?
Testing of Games participants
From a practical perspective and considering the frequency of contact with athletes and immigration's testing status, is there a need to reevaluate for better testing methods?
Use of an app as a COVID-19 countermeasure
Is there a need for an app that effectively captures contact confirmation (COCOA app), health data (temperature and questionnaire), and location information?
Based off criteria set by the host country, Japan, as a general rule a two-meter distance should be observed by athletes (with exceptions during competitions), and at least a one-meter distance (if possible two meters) at other times. The venue capacity for spectators will follow guidelines set by the Government of Japan.
In order to make the length of stay at the Olympic and Paralympic Village as short as possible, is there a need to consider the timings of arrivals and departures at the Village?
Athlete testing
Countermeasures by sport and special measures for the Paralympics
Output of COVID-19 countermeasures (communicate information)
Over three days of discussions, an opinion was raised that athletes should undergo screening tests at regular intervals. On the other hand, due to the unique characteristics of each sport with varying number of participants and frequency of contact with others, procedures concerning a confirmed positive diagnosis and identifying and determining competition eligibility for those in close contact, and protocol for competition operations at the time of infection will need to be organised by each sport. Along with measures determined for the Olympics, there was a move to make additional special measures for the Paralympics.
Discussions also took place regarding output (communication) of COVID-19 countermeasures. Currently, there are plans to present an interim report on the coronavirus countermeasures that are being discussed between the Government of Japan, the Tokyo Metropolitan Government, and the Tokyo 2020 Organising Committee before the end of 2020. Additionally, it was expressed that there is a need to provide a consistent summation of the "Guidelines (Games operations policy amid the pandemic)" created by the Tokyo 2020 Organising Committee and the "Playbook (summary of items put into practice regarding Games operations)" devised by the IOC and Tokyo 2020 Organising Committee.
John Coates, the Coordination Commission Chairman of the Games of the XXXII Olympiad stated: "Although conditions of the coronavirus pandemic are changing daily, requiring rapid testing and constant considerations for COVID-19 countermeasures in response to evolving situations, I reaffirmed the continued dedication to the event". Reflecting on discussions of delivering the Games amid the pandemic, IPC President Andrew Parsons stated, "Great strides have been made since the postponement of the Games in March".
Striving for a Tokyo 2020 Games that garners understanding and compassion, and strengthens cooperation
This project review with the IOC, IPC, Government of Japan, Tokyo Metropolitan Government and the Tokyo 2020 Organising Committee, reaffirmed the course of action needed for COVID-19 countermeasures between all parties in order to deliver the Tokyo 2020 Games.
"We will continue having ongoing comprehensive discussions on how to successfully deliver a safe and secure Games, and would like to garner the understanding and compassion of the public", said Tokyo 2020 Organising Committee President Mori Yoshiro. As organisers and operators of the Games, the Tokyo 2020 Organising Committee will continue to work closely with affiliates and intensify Games preparations, while planning for an event that merits understanding and compassion.