Hugo Calderano: Brazil's powerhouse for Tokyo 2020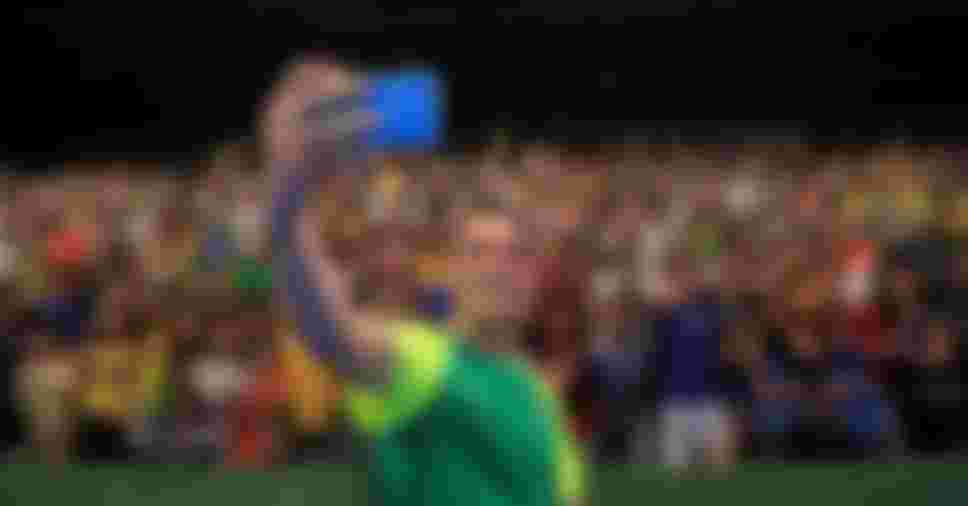 In a sport largely dominated by the Chinese, Hugo Calderano is a statistical outlier. He has broken the glass ceiling of the world ITTF ranking in table tennis and is the first Brazilian (and Latino) to ever reach world no.6 – a spot he has held since 2018.
"I've been in the top since 2018. It feels great mainly for what it means for my sport in my country," Calderano told Tokyo 2020.
It is a feat that Calderano does not take lightly.
"I think my results are inspiring other Latin American players and showing them that it's possible to reach the top coming from our continent."
Climbing to the top of the ladder of table tennis is secondary for the 23-year old athlete. He is keeping his eye on the prize of winning a medal at Tokyo 2020, all for the glory of his country Brazil.
"Being the world number 1 is a great achievement for any athlete, but my biggest goal and focus is to get a medal at the Olympic Games as I'm driven by those moments and experiences," he said.
His inclusion in this elite group of table tennis athletes brings a new level of excitement to the sport at a global level. It is also a testament to the growing popularity of the sport especially in Brazil, where football remains the national sport. But Calderano hopes his success will change all that.
"Football is by far the most popular sport in Brazil. I think after Rio 2016 people started to look more at table tennis as a dynamic and fun sport to follow, and I hope my achievements will continue to help grow the popularity of our sport and inspire the next generation of our country."
A table tennis prodigy
Calderano had been active in sports playing volleyball and track and field when he was young, but table tennis had a particular attraction for him.
"I used to play ping pong for fun since I was a little kid. Once I started playing table tennis at a club, I remember discovering things I didn't know about the sport and being fascinated by it."
From eight years of age to 13, Calderano had already been showing signs of being an Olympian in the making, consistently playing three times a week in his local club.
At that point, he had already become the best player in Rio. But the lack of facilities in his hometown was stifling the young Calderano. He moved out of Rio to train full-time in São Caetano do Sul with the Brazilian national team, juggling training in the morning while studying at night - and doing it day in and day out to improve his level of playing.
"The structure for table tennis in Rio wasn't that good. I had to move to São Caetano, the best training centre in Brazil, when I was 14, to improve my level of practice and pursue my professional table tennis career."
As he was becoming better a player, Calderano now had to look outside of Brazil to take another leap in his game and play at a world-class level.
At age 16, Calderano moved to Paris to train in table tennis, even if it meant living alone and being far from his family.
All his sacrifices have not been in vain.
By 2013, Hugo became the youngest player to ever win a leg of the ITTF World Tour and the first player to win a singles title on the ITTF Junior Circuit and the ITTF World Tour in the same year. In 2014, he won a bronze medal in the Youth Olympic Games in Nanjing, China which was a historic first for Brazil.
Then at Rio 2016, Calderano became a certified celebrity.
Whenever he played, it was always to a packed crowd, all chanting his name much akin to a football match. The fan favourite who was then no. 54th seed in the world, may have not won an Olympic medal but shattered everyone's expectations with his electrifying performance in Rio, leaving opponents off-guard and beating table tennis veterans Tang Peng of Hong Kong and Swedish Par Gerell. He reached no. 9 in his first Olympic Games.
Reigning supreme as a professional
When he was 18, Calderano moved to Ochsenhausen in Germany and currently plays in the first division of the German Bundesliga.
"I had already been in Ochsenhausen for practice periods and knew that it was a great training centre. When I was invited to play for the main team I accepted immediately. It has been a major turning point in my career. I have had the chance to keep a high level in practice and competition which has helped me improve regularly."
His experience in both Paris and Ochsehausen has played an important part in his evolution as an athlete. On court, he is known for his aggressive play.
"My power and speed are two things that give me many of my points. My playing style is very aggressive and offensive and I try to use that to my advantage."
"Table tennis is a very hard sport. We have to work a lot technically and practice the strokes over and over. I always have some more specific points I'm working on. I don't have a go-to move, as what you do in the important moments depends on many factors. But I usually play very aggressively in these moments."
Looking into his training regimen and his part-time hobbies, it isn't surprising why Calderano has reached a level of playing that no Brazilian has ever done before.
"I train around six hours per day, with lots of physical training as well. The key for me is to enjoy and have fun during practice. The improvement is much greater when I'm enjoying what I'm doing. For that, my physical coach always proposes me some fun challenges and alternative activities, so that I can become better and have fun at the same time."
Mental toughness is a huge part of table tennis, and if it is any indication, the Brazilian table tennis star demonstrates his mental sharpness by finishing a Rubik's cube in an average of 11 seconds.
"It's a cool hobby and I enjoy solving it during my free time."
He has a collection of 70 cubes in different shapes and sizes.
Challenging the norm for Tokyo 2020
If Calderano maintains his current ranking until next year, he will be facing players from the People's Republic of China during the semi-finals of Tokyo 2020.
"In table tennis being one of the top 4 seeds is important, and it might make your draw easier by only facing a Chinese player in the semi-finals. But for me, the most important is to come to Tokyo well prepared and ready to beat any opponent and fight for a medal."
In a way Calderano has become one of the biggest threats to the Chinese table tennis titans.
"The Asians are very strong in table tennis, and it's mainly dominated by China. My biggest goal and what I practise for is to beat the Chinese players in big events, like the Olympics, where they've won the most part of the medals in history."
MA Long from China remains his fiercest rival and Calderano is looking forward to battle it out with the former no. 1 next year.
"Since 2015, Ma Long has won all the big tournaments and is the man to beat. He's been struggling with injuries and that might give the other players an opportunity to challenge him in Tokyo."
With Calderano's presence in table tennis, it now looks as though it is no longer impossible to shake the ground of the dominant Chinese. At the 2018 Seamaster ITTF World Tour Grand Finals, Calderano already upset current no. 1 FAN Zhendong in the quarterfinals.
He is also looking forward to another match next year with Japan's HARIMOTO Tomokazu, the world no. 4.
"Harimoto is a great young player. He's beaten almost everyone on the Tour already, and he keeps improving constantly. It will be interesting to see how he performs at home in 2021."
With the Games postponed to next year, Calderano says, "I talked to my coaches after the postponement of the Games and we set a new strategy, with different goals for my practice. At the beginning it was hard mentally seeing the Olympic Games being postponed, but with time, I accepted it and now my mind is fully focused on preparing for next year."
While keeping an eye on the medal and continuing his preparation for Tokyo 2020, Calderano also hopes table tennis will bring inspiration to people.
"More than results, I'd like to see kids starting to play table tennis and having fun with it, as sports can bring people together and change lives."
For now, the Brazilian star has only one thing to say to his fans: "I'd like to thank everyone who supports me and Brazilian table tennis. It always gives me more motivation when I see people are cheering for us and following our results. I wouldn't be here without them!"