How patience helps French sprinter Lemaitre to aim for a third Olympic podium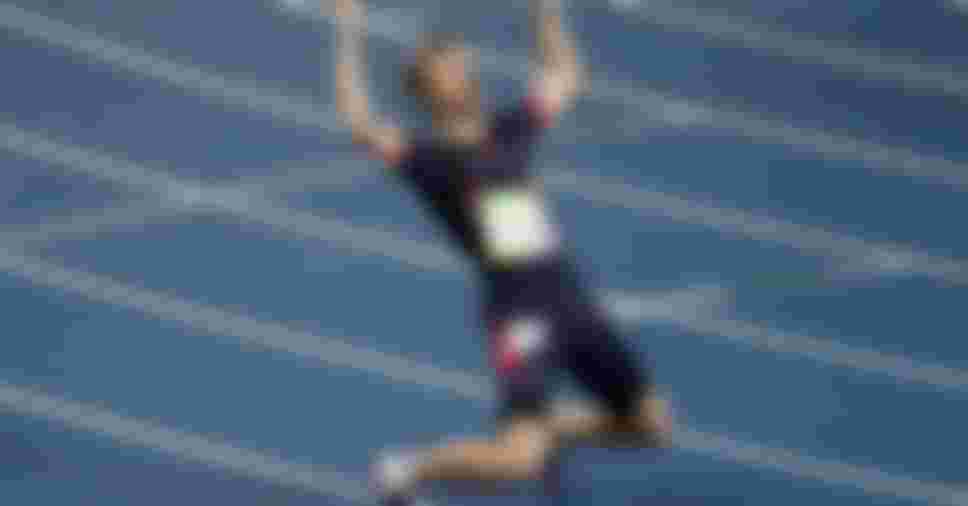 The bronze medallist from London 2012 and Rio 2016 Christophe Lemaitre may run fast but he knows how to take his time. In this interview he explains how he managed to be patient enough to stand next to Usain Bolt on an Olympic podium and how he aims to reach the guild of the best Olympians ever.
For a sprinter who needs less than 10 seconds to run a 100m distance, it's not always apparent that he could be someone with great patience. Speed is what propelled him forward as an athlete - he won three European golds (100m, 200m, 4x100m) at the age of 20. But actually, the virtue of patience helped Christophe Lemaitre claim two Olympic podiums, and it may play a big role in his new Olympic quest in Tokyo.
"We think that sprinting requires you to hurry - to go fast all the time - but that is not how it is. We need to take our time," Lemaitre told Tokyo 2020.
"We need to decorticate our movements to improve. We need to take the time to spread our stride and run as good as we can."
Good does not mean fast. But good can lead to fast. Well, that is the technical element that Lemaitre used to achieve top results very quickly.
And it shows in his performances: three gold medals at the 2010 European Championships, bronze on the 2011 World Championships 200m and an Olympic bronze on the 4x100m event in London 2012. Quite a feat for only a 22-year-old athlete.
But three years later, he faced a very difficult year.
In 2015, nothing was working for him as he contracted a gluteal muscle injury and didn't manage to reach what he aimed for. After an indoor and outdoor season where he fluctuated between recovery time and disappointing results, he decided to participate at the World Championships in Beijing.
The results were tough. He didn't reach the final in both 100m and 200m.
"I forgot to enjoy running"
Harsh criticism and negative feedback from the media began to pour in, especially as expectations were high. It was hard to handle as an athlete. In order to return to form for the Olympic Games Rio 2016, he decided to work with a psychologist.
It was a way to take some perspective and take the time to understand what was going wrong.
"2015 was mentally tough," Lemaitre recalled. "I was training hard and didn't understand why the performances didn't follow. I couldn't improve and I was struggling with my starts."
"The psychologist helped me to work on myself. I needed to run for the the right goals. I was running to silence critics and I forgot to enjoy running.
"Thanks to the psychologist, I could enjoy again and be calmer on big events."
Initially, I wasn't patient at all.

I want things to happen fast. I want fast results.
Learning patience through playing cards
Coincidence or not, during the same period, the French sprinter discovered a card game that requires players to practise patience, strategy, thought and observation. It's called Magic: The Gathering and consists of taking the best of an opponent with a deck, composed of 60 cards minimum with each one having a function. It is similar to playing-a-role game, but using cards.
Lemaitre instantly fell in love with that game.
"I like the strategic side of Magic. I take a lot of time to compose my deck, to find synergies between cards."
"Initially, I wasn't patient at all. I want things to happen fast. I want fast results. That's actually why [as a career] I went for sprint distances. But Magic helped me to be patient, and not to be in a hurry. It trained me to think step by step as well."
It's something that he would like to pursue after his athletic career.
"I participated in a few tournaments but with my training and competitions, it's complicated. I'd like to do more and for sure I will have time when I'm retired."
"I'm not over"
For now, he is still in the game and looking forward to get back in competition. The Diamond League meetings calendar was released and the season will start in August in Monaco, where Lemaitre could make an appearance.
"Not having an empty season is relieving. Meetings will be a good way to see where I stand among other sprinters. It will also be nice to see what I will have to work on towards Tokyo. There is more than a year for preparation now."
He will take his time to be as prepared as he can because he believes he has a chance to get back on the box in Tokyo, where he's aiming to compete on 100m, 200m and 4x100m just as he did in Rio.
"I know I'm not over," said the 29 year-old. "I have the same goal as in Rio - to get back on the Olympic podium. I have one more year and I can take advantage of this postponement. I know that if my mindset and my body do not bother me, I can fight for the Olympic podium."
Taking the time for body signs
Lemaitre also had to be extremely patient with his body. After 2015, he once again had some tough times between 2017 to 2019, when he faced hamstrings and calves injuries. However, Lemaitre managed to handle these tough periods with time and perspective.
"I knew that rage, frustration and anger wouldn't help my recovery. I remained calm and I took the time to recover. I tried to understand why I got injured. Each injury helped me to get better," Lemaitre said.
He also said that with patience, he now knows how to listen to his body in order not to push too much.
"I didn't get injured those last months [for nothing] because [now] I'm able to express myself better on what I feel. I can say to my coach when something appears to be wrong and he can adapt my programme."
I knew that rage, frustration and anger wouldn't help my recovery.

I remained calm and I took the time to recover.
Aiming for Olympic history
Even though he didn't stop his training during the lockdown, he remained active. He took some community management courses, signed up to e-learning classes and attended saxophone classes by video conference.
Now, he is back on the grass track in Aix-les-Bains, near his hometown Annecy at the doors of the French Alps, and happy to "put on spikes again" after the lockdown.
He is still seeing a psychologist once a fortnight and also plays Magic as often as he can.
Those side activities don't play a role on the tracks but they help him to take his time and be chill whilst on his spikes.
In the final analysis, all his efforts are focused on one thing: to reach what have been accomplished by Alain Mimoun and Mahiedine Mekhissi-Benabbad, the only French runners who managed to reach an Olympic podium on three successive Games.