Engineering student Thomas Chirault on cusp of Olympic dream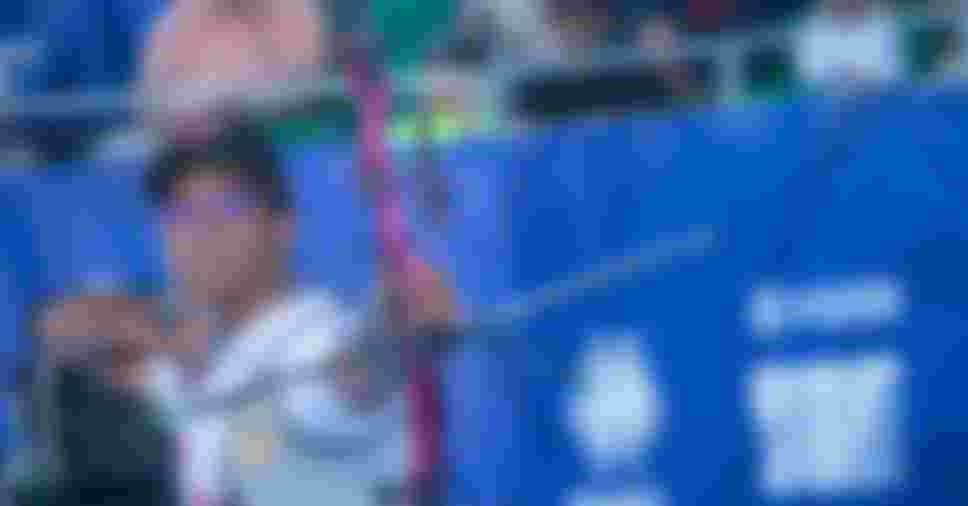 The 22-year-old won silver at the 2017 World Championships and is currently ranked 15 in the world, but he is also studying engineering and is passionate about nanomaterials. He told Tokyo 2020 of his dreams of adding to his medal collection next summer, and the fine line of balancing his studies and intense training regime.
Focus.
That's Thomas Chirault's main occupation. As an engineering student at Paris-Sorbonne University and an elite archer, he doesn't really get a chance to relax. He trains twice a day, attends classes throughout the week and completes his coursework at night.
The rhythm is intense but it's all about being able to adapt.
"The rhythm has been like this for several years," he said.
"It's not always easy because the days are jam-packed. You have to focus. With a two-hour class you need to focus as much as possible, before training where you also have to focus a lot. It's really just a rhythm you get into."
Nanomaterial research
Even if he is ranked no. 15 in the world, Chirault is not planning to give up on his studies. He aims to graduate in four or five years thanks to a more relaxed schedule for elite athletes.
He's balancing his passion for archery with a fascination for nanomaterials - tiny elements of matter that are 10,000 times smaller than the diameter of a hair. Or, to put it another way, a few hundred thousand times thinner than his bow's string.
"I wouldn't just like to do archery. I already dedicate a lot of my time to it and I would like to do something else as well. I love nanomaterials and I'd like to discover them through my research."
On the other hand, his passion for research doesn't interfere with his love for archery.
At 22, he represents the sport's future in France, and his record is already excellent, particularly in the team event.
An effective trio
Chirault has been travelling the world since 2017, as part of a trio that includes the Rio 2016 silver medallist Jean-Charles Valladont and fellow countryman Pierre Plihon.
Together, they won gold at the Berlin 2017 World Cup stage and the 2019 European Games. They also won silver at the 2018 World Championships when he was only 19 and had just made his debut at the National Institute of Sport, Expertise and Performance (INSEP).
It remains the greatest win of his career.
"I was still a junior and competed in the senior competition," recalled Chirault. "That is my greatest achievement."
For now, France haven't achieved Olympic qualification. Unfortunately, they were ranked no. 9 at the 2019 World Championships where only the top eight qualified. In order to claim their place in Tokyo, the French team will need to win one of three remaining spots during the Final World Team Qualification Tournament (FTQT), next summer in Paris.
"We know each other very well and it would be a great achievement to ratify this relationship with a beautiful Olympic medal," he said.
Off target to a perfect 10
But Chirault's goals are not only relate to the team event.
He's also aiming to qualify for the individual event - something he will hope to achieve at next spring's European Championships in Turkey.
If a silver medal in the world team event remains his greatest achievement, another medal that holds a special place in his heart is the bronze medal from a windy day during the 2018 World Cup stage in Salt Lake City, USA.
"I proved to myself that I could succeed on my own as well," said Chirault. "This medal was great because everything depended on me - and I succeeded."
It was, however, not the easiest day, as it began with a long wait and a missed target during training.
"I stayed in bed for a long while, playing out the match in my head."
"I was telling myself that I was confident and the result had to be that way. While I was training, right before going into the arena for the match, my mind slipped and I missed the target with an arrow. But I was so confident that I looked at my coach and said that it wasn't that bad, that I knew it was going to be okay."
Indeed, at the decisive moment when he needed a 10 to win the match, Chirault stayed focussed and didn't miss the target. The arrow landed right on the 10.
"I'm not competing to come second"
Even if he doesn't yet have a ticket to Tokyo, Chirault is already thinking about the Olympics. He is convinced that his chances are good.
"I know I'm good enough to do something in the individual event. I'm not competing to come second or for a quarter-final. I always aim to win."
He's already focussed on the goal.
The Olympics are only held once every four years, and they are the most prestigious reward for an athlete. So Chirault is aware that the pressure will be very hard to handle.
"I practise visualisation a lot. Even if I know that I handle stress well, the Olympics Games are the main reason I do archery. I know [the pressure] can make me uncomfortable."
"So I try to prepare in advance. I visualise myself competing, participating, going through the stages and winning.
"I visualise the final arrow, like in Salt Lake City."