10 things to know about high-flying BMX star Nikita Ducarroz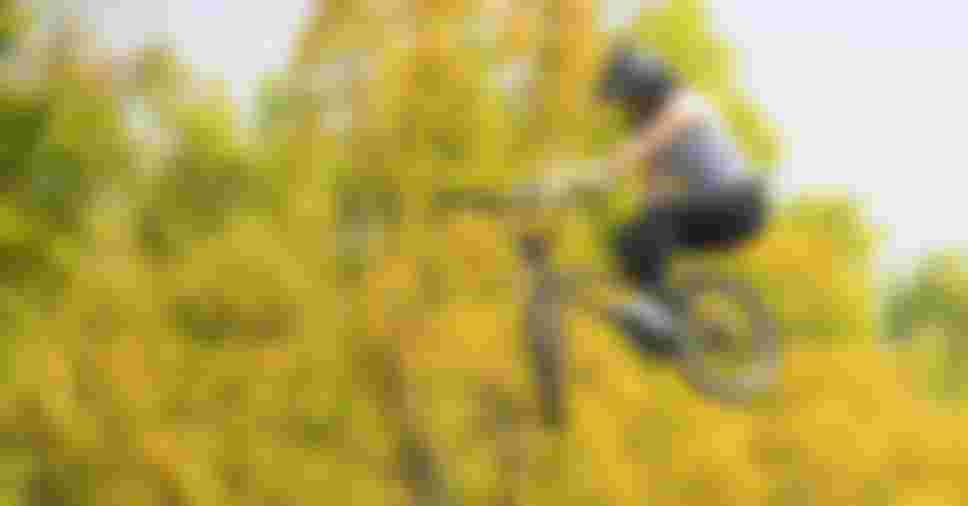 World no. 5 Nikita Ducarroz is poised to be a top contender for BMX freestyle when the discipline is introduced at next year's Olympic Games.
The Swiss-American rode high with a series of strong performances in 2019, placing fifth at the UCI Urban World Champions, fourth at the UCI Freestyle BMX World Cup and even topping the podium earlier this year at the 2020 BMX Simple Session.
But behind the triumph and the glory, Ducarroz has to conquer anxiety, a struggle she's had since her teens and which has now become the flip side to her illustrious biking career.
Ahead of her quest to qualify for the Olympics, Ducarroz spoke to Tokyo 2020 about how she has become a trailblazer while speaking about her anxiety and how this inspired her to become an advocate for athletes' mental health.
Here are 10 things we learned about Ducarroz:
1 - Her ultimate goal is to compete in Tokyo 2020
With the postponement of the Games to next year, Ducarroz is focused to bring her A-game if she secures qualification next year.
"That's the highest priority. That's the biggest event on the horizon for us so definitely making sure I am just staying focused for everything, and keeping it fun and not be burned out," she said.
2 - She's now (in lockdown) in a training facility with other elite riders
Ducarroz is currently in isolation with a small group of riders, including Venezuelan Olympic athlete Daniel Dhers, in a private training facility in North Carolina. While they are all waiting for the UCI's decision about future qualifying events, the group are continuing their preparation for Tokyo 2020.
"There's a small group of riders here, we have the same goals and are all working towards the towards the Olympics. Nobody has any contact with anyone outside of the group. We're just kind of doing our best to keep training however we can."
3 - Ducarroz is the only BMX rider to represent Switzerland
While other countries have multiple riders, Ducarroz must carry all the pressure on her shoulders to record the necessary qualification points to get to the Games.
"I'm excited to put that work in to try and make that happen. It definitely motivates me. That's obviously the goal but there's also just so many talented women out there."
4 - Anxiety issues led her to discover BMX riding
Ducarroz's anxiety in her teens became debilitating to the point that she couldn't leave the house.
"Around when I was 13 or 14, it got so bad that I wouldn't leave my house anymore. I wouldn't go out anywhere. I wouldn't go to school. I was just terrified to leave."
"I was at my [grandparents] and I said, 'I am going to ride BMX'. It somehow ended up being the greatest decision that I ever made."
"It helped me not only get better at riding but eventually got me out of the house again and improved my overall life as well."
5 - She says speaking about her anxiety is therapeutic
Ducarroz says speaking about anxiety issues helps her and others too.
"A lot of times when I opened up, other people opened up to me."
"To have it out in the open almost lessened my anxiety more. If it was doing it for me, we want to do that for others as well. I think it's just important to make it not such a stigma and [something not to] be scared to speak about."
6 - She started an Instagram Project with m1ndtricks to help other athletes
Ducarroz started m1ndtricks with a friend when they couldn't find anything on the internet that talked about sports and mental health.
"I do have an amazing life, but I wanted to show that it's not perfect all the time even when we're winning all the contests."
With m1ndtricks, Ducarroz hopes athletes can share their own struggles with mental health and in the process help them along with others.
"We want to reach out to athletes and get people to start sharing their stories. It's been a little slow and I don't really know where we want to go with it, but it has a possibility."
Ducarroz also offers this advice to athletes: "Don't be afraid to let people know and ask for help. It's not a sign of weakness although it can feel like it. I would say to always keep a support system around you. Surround yourself with people that you love because when things go bad, those are the people that will help you get out of it."
7 - She credits the BMX community for supporting her career
What keeps her going is her love for BMX and the community that supported her throughout her rise to the top.
"We don't grow up with coaches. There's no team practice or anything like that. You show up to a skate park. For the most part, these older riders can encourage you but [at the same time] also you feed off of [from them]. You see them doing something cool and it makes you want to want to try."
"There was never any doubt in my mind that the [BMX community] had my back. They really took me under their wing and just taught me."
8 - She believes BMX Freestyle in Tokyo 2020 promotes inclusivity
Prior to being announced as part of the Olympic sports programme, there were not a lot of competitions that female riders could participate in.
Ducarroz notes how the Olympics made a dramatic impact on the sport, and with female riders in particular.
"I think the most drastic change was on the women's side. Prior to that, it wasn't mandatory to have women contests. There were a few there weren't that many. As soon as the Olympics came into play, the country started getting involved. This opened a whole new side of funding that we didn't even know existed. Suddenly we went from eight women to 40."
9 - She's now working with a sports psychologist to up her game
To help her deal with the pressure of the competition, Ducarroz started working with a sports performance psychologist.
"He helps me with life like life in general and performance anxiety. I would like to deal with [pressure] better. That's one of the benefits of having someone like him. I think that as the years have gone on, there's been more stress and pressure prior to competitions just because I think there's more at stake now. But most of the time, the pressure comes from just me wanting to do my best for myself."
10 - She finds a lesson in everything
Asked what mantra can sum up her as a person and as an athlete, Ducarroz refers to her tattoo on her arm.
"I have words tattooed on my arm. That says 'always a lesson'. I kind of take that overall, as a reminder of regardless of what happens, good or bad whatever I'm doing there's a lesson in it. There's something I can take away from it."