Information about the orientation
We will be holding orientation sessions which include interviews, aimed at enhancing teamwork and enabling participants to gain a sense of the atmosphere of the Tokyo 2020 Olympic and Paralympic Games.
From late January, we will be sending notifications to the email addresses registered in 'Step 2' of the application form, and each applicant will be required to attend one orientation session, which will last for approximately 90 minutes - 2 hours.
Beware of phishing and other cyber crime sites
There are increasing incidents where users are guided to fraudulent websites by clicking on a link contained in an email or on social media.
Please make sure you do not accidentally access a fraudulent website that claims to be the Tokyo 2020 Games Volunteer My Page.
Procedure prior to the orientation session
An email entitled 'request to reserve a place on the Tokyo 2020 orientation session at (name of venue)' will be sent.
Please follow the instructions contained in the email and reserve a place for your preferred date.
An email will be sent to you before your preferred orientation session detailing the procedure for the session for the appointed day.
Please ensure you arrive on time at the venue where your orientation session will take place.
Please note that you will not be permitted to enter the venue ten minutes after the session has begun.
Please also note that you will unable to enter the venue until 30 minutes before the session is due to begin.
Prior confirmation of attendance at orientation session
The following points will be checked at the orientation session. Please ensure you complete these points before attending the session.
Proof of identity (Step 1 of the application form)
Login to My Page and click on 'input and editing of application form'. Please check to ensure that there are no errors in the information you have input.
If you have not yet entered the information, please complete all items relating to the proof of identity.
For the items 'family name' and 'given name' included in Step 1 of the application form, please use the same 'family name' and 'given name' as stated on the document you are using as your proof of identity.
One of the following documents must be shown as proof of identity.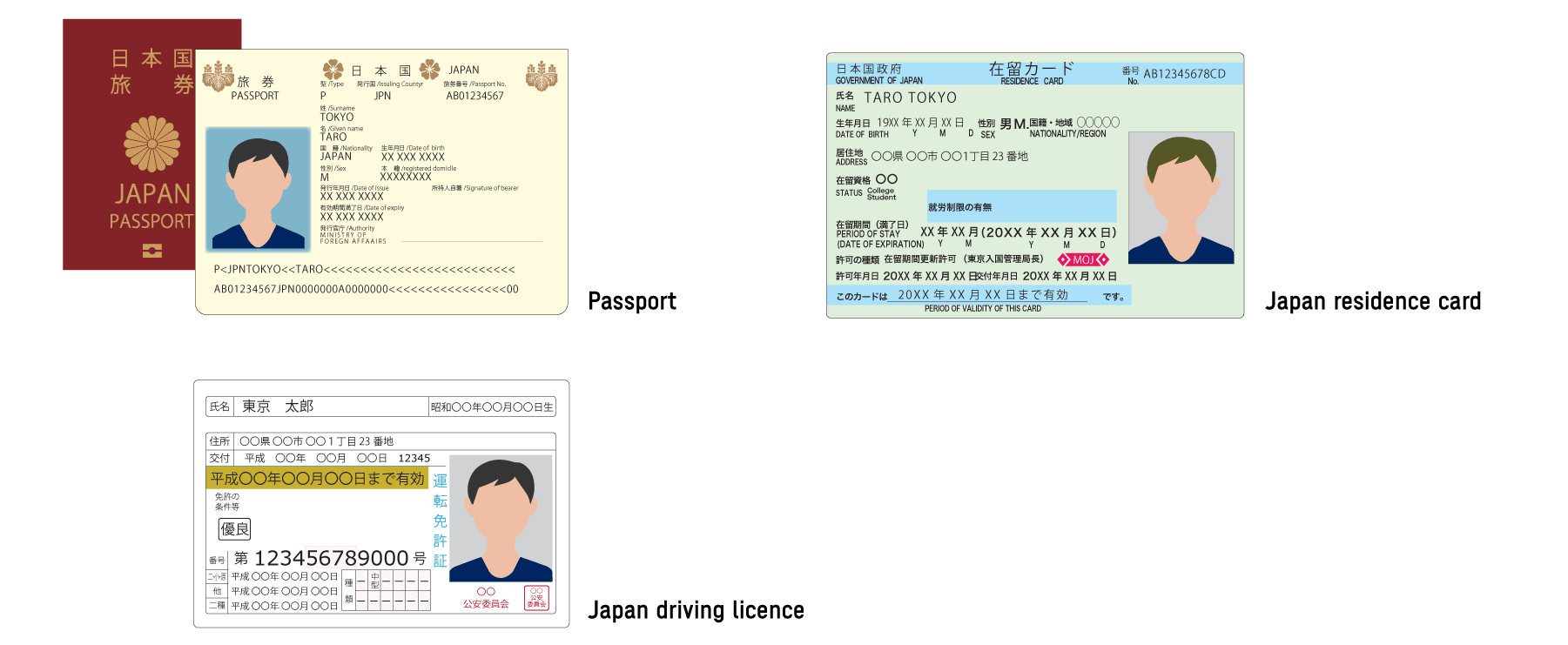 Photograph for Step 1 of the application form
If all conditions regarding photographs have not been met, please obtain a portrait photo of yourself, log in to My Page and click on 'input and editing of application form', and change your photo on the item 'photo registration and alteration'.
Please see below for image data requirements:
File format: JPG, JPEG, PNG, or BMP
File size: 50KB – 5MB
Digital Photograph Specifications

Basic requirements
Minimum of 480 pixels (width) and 600 pixels (height) after cropping the photo on the system
JPEG (.jpg or .jpeg), Portable Network Graphics (.png) or Bitmap (.bmp) format. File size between 50KB (kilobyte) and 5MB (megabyte)
Recommended size: between 50KB (kilobyte) and 5MB (megabyte)
Glasses and head coverings
You should not wear hats, large headbands/hair accessories, wigs, or other head-coverings (except for religious or medical reasons)
When a head-covering is worn for religious reasons, it must not obstruct your face line
The facial features from the bottom of the chin to the top of the forehead and both edges of the applicant's face must be clearly shown
If you normally wear glasses then they can be worn, however the frames of the glasses should not cover any part of their eyes (glasses with heavy frames should be avoided)
Sunglasses and glasses with tinted lenses must not be worn
Photograph quality
Your photograph should not be edited or digitally altered in any way to improve appearance (including application of filters, adjustment/removal of backgrounds, adjustments to brightness/contrast, etc.)
Your photograph should be cropped to meet the dimension and style requirements outlined in this document and should not be squashed or stretched in such a way that the dimensions of the face are distorted
Expression
You should have a neutral facial expression, and your mouth closed
You should have your eyes open and clearly visible
Your hair must not cover your eyes
You should not wear coloured contact lenses
You should stand/sit facing square to the camera, looking directly at the camera without tilting the head
Your full face must be visible
Style and lighting
You be the only person in the photograph
The photograph should show recent likeliness of the applicant; they should be taken within the last six months
Your photograph should have a plain white or light-coloured background
Your photograph should be in colour (not black and white)
Your photo photograph should not have reflections from the cameras flash on the applicants face or glasses
The applicants face should take up 70–80 per cent of the photograph
Items to bring with you on the day of the orientation session
Proof of identity selected during registration;
Writing materials and;
An item that can be used to confirm the barcode displayed on My Page
Schedule for orientation sessions
| Dates (all dates are 2019) | Prefecture | Name of venue |
| --- | --- | --- |
| From 9 Feb | Tokyo | TOKYO SPORTS SQUARE (to be held on five days each week during stated dates) |
| 20–21 April | Sapporo, Hokkaido | Sapporo Social Welfare Center |
| 4–5 May | Rifu, Miyagi Prefecture | Rifu Town Office(Pear Pal Rifu) |
| 12–13 May | Fukushima City, Fukushima Prefecture | Active senior center |
| 25–26 May | Kashima City, Ibaraki Prefecture | Kashima Sports Center |
| 8–9 June | Izu City, Shizuoka Prefecture | Ikiiki Plaza |
| 15–16 June | Gotemba City, Shizuoka Prefecture | Gotemba Civic Hall |
| 28–30 June | Nagoya City, Aichi Prefecture | Aichi Civil Service Personnel Training Institute |
| 6–7 July | Toyama City, Toyama Prefecture | Toyama City Gymnasium |
| 12–16 July | Osaka | Osaka Social Welfare Guidance Center |
| 20–21 July | Hiroshima | Hiroshima City International House |
| 27–28 July | Fukuoka | Fukuoka City Hall |
Please note that the above stated schedules may be subject to change
Orientation sessions for persons residing outside of Japan will be conducted by video call between March and July 2019